I am one step closer to my dream! Last week, I drove up to Buda, Texas and signed the paperwork on my brand new, 2015 Open Range 427BHS bunkouse fifth wheel!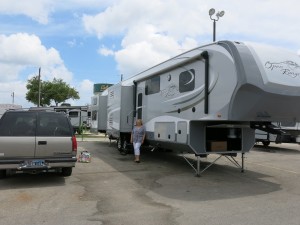 I took my friend and handyman with me so that we could do some measurements and figure out how to go about the renovations that I wanted to do. Here, I will show you the "before" pictures, and next month, I hope to be able to share the "after" pictures! You can click on the pictures to see them larger.
Living Room – I love the big, U-Lounge! There are 2 tables that I can set up in front of it for eating or working. I'm thinking, though, with the bar stools that are included, I may not set up the tables so as to save space… not sure yet, though.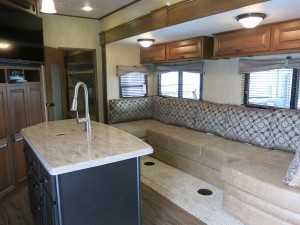 These 2 "Euro-Chairs" came with the RV but I would rather have storage, so I am going to sell them and instead, put a sideboard there. More storage below and prep area above.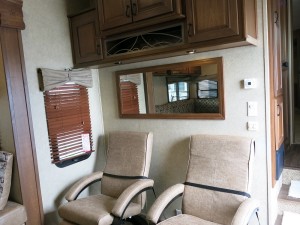 Bedroom – looks like there will be plenty of space for me, but I'm glad I don't have to share closet space with anyone! The right side of the closet will house a washer-dryer combo, and there is more storage under the bed (that is actually where the bar stools are right now)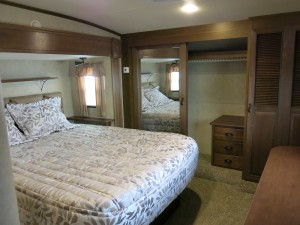 And a sexy bathroom -check out that sink!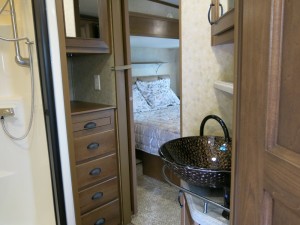 Studio – Here we go!! We are going to take out the bunks and closet. The left slide will house a 6-foot table for all my stamping, crafting, and sewing needs, including a semi-permanent (or permanent, not sure yet) video setup.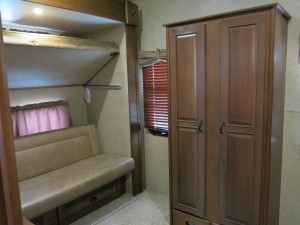 The right slide will house another 6-foot table for my office – computer, printer, e-cutter, etc. Both tables will have an Elfa storage drawer and 2-drawer filing cabinet underneath and have their own chair.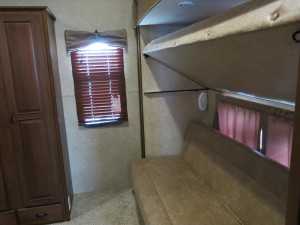 Instead of this closet, there will be a DVD media shelf to hold all my stamp sets and other stuff that will fit on skinny shelves. When I move the RV, I will have to take every thing out, but I don't see that as an issue. In the center of the room, will be 4 taller Elfa drawer units configured in a square (about 3-feet by 3-feet) that will hold all the rest of my supplies. One drawer unit will be for sewing and the rest for paper crafting and Stampin' Up! supplies. The drawer units will be clamped together and Mike is going to build a top that will cover them all, creating a solid unit that will stay put during transport. I was initially concerned that there wouldn't be enough room when the slides are closed, but it looks like there will be plenty of room!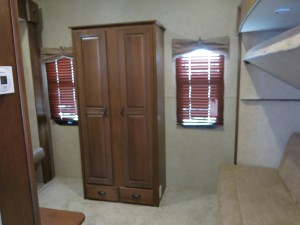 There is even a half bath off the studio and a back door. I would have rather had the extra storage, but I have a feeling that I am going to be glad it's here. (oops – took a selfie!)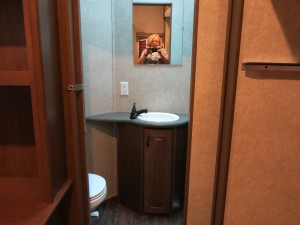 So here are my keys – I am getting excited for this journey to begin! Be sure to sign up for my mailing list and follow me on Facebook so you take the journey with me – virtually, that is!!