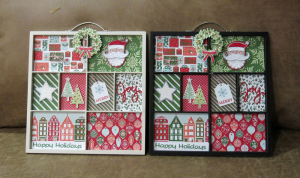 My friend, Cindy, and I hung out yesterday and had a great "girl" day!  We went to lunch at Acadiana (great Cajun food), then went to a Half-Price Book Store Clearance Sale and browsed – could have probably spent hours there, but we had more to do….
I had seen a cute project made with a 12×12 memory frame, so earlier in the week, I went by Hobby Lobby and picked up a couple – one in cream, and one in black.  Cindy and I spent the afternoon decorating them for Christmas.  The original plan was to do them for Halloween, but we already have the wreaths we made from Stampin' Up! kits.
So we gathered up some Designer Papers and stamps and put together our frames.  It was really easy!
If you want to copy us (we don't mind at all!), here are some of the things we used.  You can shop for these, and more, at my Stampin' Up! Store.