In San Antonio, listening to the remains of Hurricane Harvey – just some rain and occasional wind gusts.  Nothing we can't handle, though I will say that even a 30 mph gust shakes the RV up!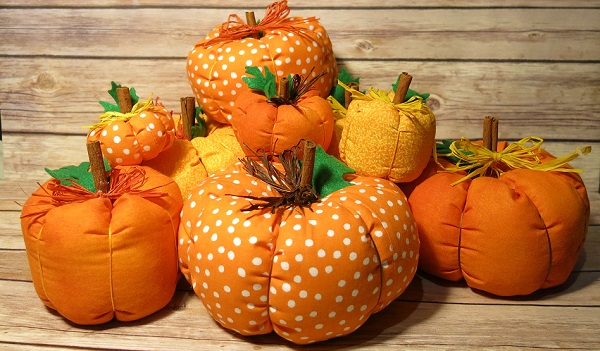 So I decided to get some pumpkins made.  I had a special order to make some and I needed to get busy, so I did!  I had purchased 3 different fabrics, 1/2 yard each, but wasn't sure how many pumpkins that would make, so I just started cutting and found that I could get 2 each large, medium, and small out of one half yard.  The fabric needs to be cut twice as long as wide to make the prettiest shape and mine came out to be 21×10, 16×9, and 9×5 (approximately; as I started making them, I started trimming them down to the 2:1 ratio).  The above photo shows half of the ones I cut; I still have more work to do!
I wanted them to smell like fall, so I added cinnamon, nutmeg, and cloves to some white rice and put some of that in the bottoms of the pumpkins and then filled with fiberfill.  But I didn't buy enough rice, so not all of them got that treatment.
To make each pumpkin, sew the fabric into a tube and then sewing a running stitch at top and bottom, using a carpet thread for strength.  Pull up the bottom thread, stuff, and then pull up the top thread.  Then use 6 strands of embroidery floss to make the segment shapes.  There are more detailed plans (and videos, I'm sure) online.
Finish by gluing a cinnamon stick stem (craft cinnamon sticks from Amazon) and a die-cut felt leaf (or you can free-cut your leaves).  Add a raffia bow if you want.