Last week, I went to the annual Stampin' Up! convention in Salt Lake City, Utah, and met up with my dear friend, Lauri who presented me with this incredible thread catcher that she made for me.  It has a removal pin cushion weighted down by a ceramic tile, and the "bucket" has a handy loop for my scissors.  It matches some other sewing accessories that I have that I will share with you another time, and will look awesome in my crafting studio for the RV – can't wait!!
I wanted to make her a special thank you card, and so made this Card in a Box that is a twist on the others that are very popular right now.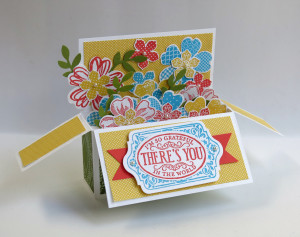 Like the other cards, it is made from a half-sheet of cardstock and it will still fit in an A2 envelope, but the paper is cut lengthwise (4-1/4″ x 11).  Simply score lengthwise in half (2-1/8″) and for the crosswise sections, score at 4″, 5-1/4″, 9-1/4″, and 10-1/2″.  The crosspieces inside are cut at 4-3/4″ x 3/4″ and scored 3/8″ from each end.
If you have any questions about either of these products, just email me!