Don't you love making your own Christmas ornaments?  They can be used to decorate a tree, of course, but you can also use them to decorate packages.  Imagine a loaf of your special cranberry bread, wrapped in a ribbon with a cute ornament hanging off it?  Whether you live in an RV full-time, a house, or an apartment, I bet you still like to give gifts at the holidays!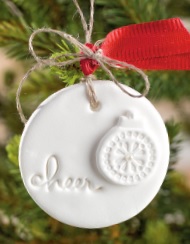 Every week, on Tuesday, Stampin' Up! puts some items on special, just for a week, and this week, one of those items is our Simply Pressed Clay!!
Check out how easy is is to make this ornament:
Here are the items mentioned in the video.  You may already have something else that will work for you, but if you don't, just click the item number below for more details.  Also be sure to check out the Weekly Deals – you can also get some flower & button molds to use your clay in, as well as some re-inkers if you want to tint your clay beforehand – all  on sale!
Silicone Craft Sheet (127853)
Simply Pressed Clay (130865)
Brayer (102395)
Embossing Buddy (103083)
Paper Snips (103579)
Linen Thread (104199)
Real Red Satin Woven Ribbon (135840)
Basic Pearls (119247)
Simply Scored Stylus (125624)
Cookie Cutter
Let me know if you need any help.  Hey, I just had an idea – wouldn't it be fun to have a class and make these?  Email me if you think so, too!