Most RVs come with a so-so mattress.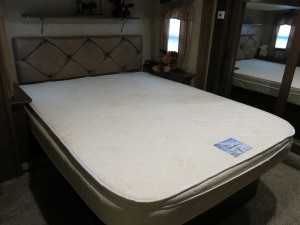 Well, I decided that I have spent way too many hours on a so-so mattress and I deserve an amazing mattress!  So this week, I went and bought one!
I didn't think that I would like a memory foam because I heard that they hold in heat and I like to sleep on the cool side.  And I learned that an air-based mattress (e.g., Sleep Number) wouldn't work for me because I am a single on a queen mattress and they are divided down the middle.  So I went with conventional: a Simmons Beautyrest Recharge – a coiled mattress, but with mine, the coils are wrapped separately.  It also has gel to keep it cool.  And extra firm, please!  Can't wait to get to try it out!