I have officially moved back into my fifth-wheel RV, but I am still trying to get everything organized.  Small spaces are good but everything has to have a place and I have too much stuff that doesn't have its own place yet.  I hope to get there mostly this month – wish me luck!
I have planned my February Stamp Class and wanted to share the projects with you.  If you are in the San Antonio area, I hope that you can attend my class on Saturday, February 11th at Alamo Craft Company starting at 10:30.  If you are planning on coming, please RSVP to be sure of a seat.  The class is $20 or free with a $35 Stampin' Up! order.  If you place your order online before Saturday, please use Hostess Code MEJ7HNXH.
If you can not make it, you can still join my Virtual Stamp Club and get access to photos, supply lists, instructions, and actual real samples mailed to you.  Check it out.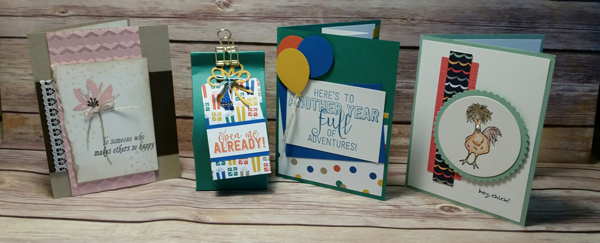 Save