I had SO much fun at my class this weekend at Alamo Craft Company.  I had one attendee on Friday and it was really nice because I hadn't met Debbie yet and so we had a chance to get to know one another.  And on Saturday, there were 7 and that was nice too, because it was crazy busy!
I've already showed you 2 of the projects we did in previous posts (Painted Petals Designer Paper and I Like Your Face), but I haven't shown you the third one.  This idea came from another demonstrator at a local demonstrator get-together (I wish I could remember her name).  I love this little treat bag die and I love the ball trim – so striking on the black and white paper!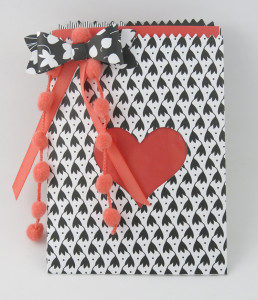 Here are the supplies that were used.  If you need to order any of these, just click on the photos or check out my online store.  And if you want to receive exclusive videos of these projects, check out my Virtual Stamp Club.