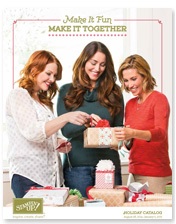 In a few days it will be Labor Day and then…. BOOM!  Halloween…. Thanksgiving….. Christmas…… New Years!  Time for gifts and parties!  And even if you live in an RV, it doesn't mean that you have to forgo all the fun!
The new Stampin' Up! Holiday catalog is packed FULL of versatile stamp sets that can carry you all way from the BOO to the Champagne.  And there are tons of other products that you will need, too.  AND they can be delivered direct to YOUR home, no matter where (in the US), your home is!
Everything is more fun with a party, though, and I would love to party with you – if you are in the San Antonio area, invite me and a few of your friends over for a stampin' party.  We will make some cute projects and YOU will earn free products for your efforts!  Call me at (210) 684-5800 for more information!