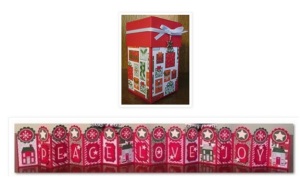 You will receive all the precut supplies to make this gorgeous banner – all 32" of it – plus a box to store it in!  Class fee is $25 (place a $35 Stampin' Up! order that day with me and get $15 back.)  You must RSVP by December 1st so that I can have your packet ready.
Class Dates:
Friday, December 5th starting at 10:30
Saturday, December 6th, starting at 10:30
Email me at gail@rvcrafting.com or call me at 210.684.5800 if you have questions and/or to RSVP.