This month's Paper Pumpkin kit arrived yesterday and it is SO cool!  Here's what comes in the box: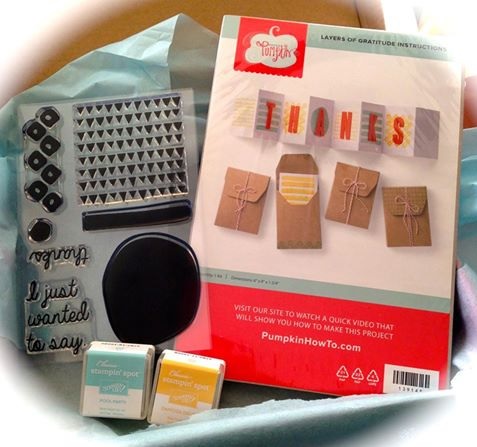 And here is how it is made:
The project is an accordion card with die-cut, self-adhesive felt letters.  The folded up card fits perfectly in a kraft box.  The only thing needed that doesn't come in the box is a pair of scissors.  And did I tell you that the kit has supplies to make EIGHT of these????
This was February's kit.  Each month the Paper Pumpkin kit makes something new.  And since you don't know what the kit will be until you receive it, it's like a Surprise Party in your mailbox every month!
Once you are a Paper Pumpkin subscriber, you will have opportunities to purchase past kits, so why don't you sign up today?
There are several ways:
Become a Paper Pumpkin subscriber for $19.95 plus tax each month.  You can pause or stop your subscription anytime.  Start HERE.
Buy a prepaid 1 month, 3 month, 6 month, or 12 month subscription for yourself or a friend.  When you purchase one of these, you receive an email with the redemption code.