Let me introduce you to my crafting Studio.  This is a separate building from my home and it is about 800 square feet.  My ongoing task is to compress down my studio to about 100 square feet.  Yikes!
This is the existing studio.  You are only seeing the classroom part and maybe later I will show more but you get the idea that I have alot of room, right?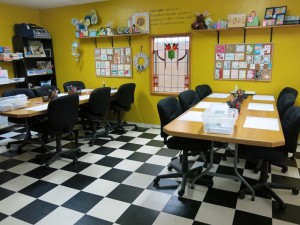 For the last 2 Saturdays, I have been sorting through the decades worth of crafting supplies (I have been doing this a long time!).  I have sorted everything into 3 piles: keep, sell, give-away.  There are a couple of other, smaller groups: trash bin and recycle bin, but not much ends up there – it's all good, right?  The "sell" pile goes onto shelves for sale to my friends and customers, the "keep" pile goes into a separate area (some of it will need to be sorted again), and then "give-away" pile goes on the kitchenette table for friends to go through.  They have 1 week to come pick through, and then, after a week, it will go immediately to charity or the trash bin, and then I can start over.
Here is the "give-away" pile from this week.  Yes, there really is a table and 4 chairs under that pile!  Same pile from 2 different directions.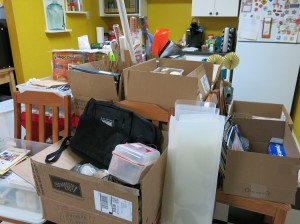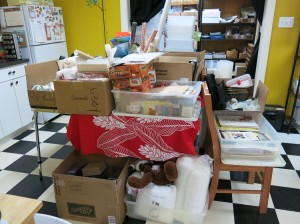 In the storage room, there are some shelves that were solidly covered with boxes before I started and now look like this: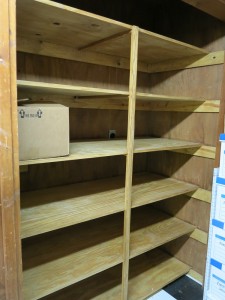 And that one lonely box actually contains brown packing paper that will I will need when I pack up the stuff I am keeping.  Wow!!
Stay tuned for more developments!!  And if you know someone who is looking for a really nice house in San Antonio with an amazing studio, email me!