Second day.  I am so tired.  Why am I doing this?  I know me and I know I must have a good reason, so let's keep going!
Yesterday was pulling apart.  Today is about putting together.
The crafting space.  The desk used to be the bunk.  It is held up by some MDF panels and the bunk brackets.  The curtain rods have a 2-1/2″ return which makes them stick out too far, so on the bottom window, I replaced the rod with some wire.  They will never be open but should look ok from the outside.  By the way, these photos make the blinds and curtains look pink – I can assure you that there are no pink curtains in my house! 🙂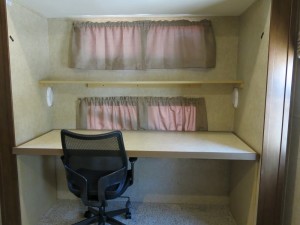 The office space.  You may recall from yesterday that this slide has the sliding mechanism under the box.  We cut the bunk into 3 pieces and used MDF for the sides and the shelf on top.  I'm sure it won't be the most comfortable place to work, but since I have a laptop, I can move it anywhere.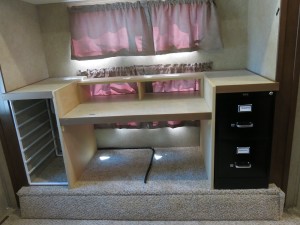 Where my media shelves (to store stamp sets and more) will live.  I wanted to keep the outlets, so we built a base with a false bottom for the DVD shelves.  I'll be able to store catalogs on the bottom shelf to keep them out of the way.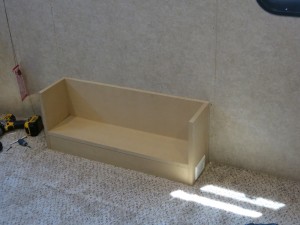 What was once a desk.  Is now a shelf.  The TV bracket will go on the top section.  I think maybe the other shelves will work for displaying 3-D samples.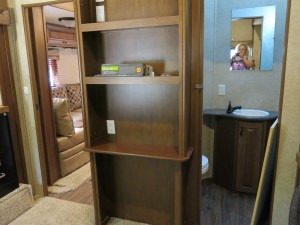 Next up: put the DVD shelves together, install the TV, and bring over the big Elfa shelves that will live in the middle of the room.  On paper, everything looked good, but in person, it looks like it is going to be too tight.  I think that the new office chairs I bought will be too big.  But I won't know for sure until everything is in the room.  Mike has other clients to work for, and I have quite a bit of stuff to move in, so we will resume the redo next week.
I always include a blurb about where I am and what I am up to in my weekly emails.  If you want to keep up to date, sign up for my newsletter.  There are also some cute projects you may like!