When I bought my RV, I figured out where I wanted to do my paper crafting, but wasn't all that sure on where I would sew.  And then I needed to figure it out fast.  I offered to make some tote bags that the ladies from Alamo Craft Company would fill with toiletries, gifts, etc, for a local Battered Women's Shelter.  So  this past weekend, I got everything I would need from my RV "basement" and converted the living space into a sewing room: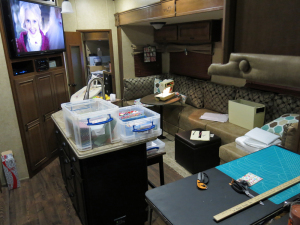 There is a table for cutting, a table for sewing, and the ironing board – plus some Christmas movies on the TV!
Here are the tote bags all ready to go: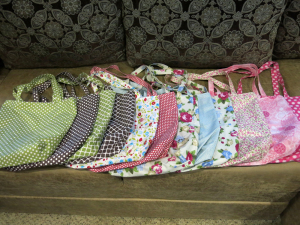 By the way, they were easy to make.  I used my Stampin' Up! oversized fat quarters (18″ x 27″), and cut 3″ off the long size, giving me a piece 15″ x 27″.  I cut one for the outside and a coordinating piece for the inside.  For each one, I folded them in half and sewed the side seams, then stitched the gussets in the bottom.  I used the cut-off strip for the handles, stitching them into the top seam.
Stampin' Up! doesn't have fabric in the catalog anymore, but there is some available on the clearance rack.  Each package includes one fat quarter of each pattern.  Click on one or more of these links to go to my store.