Yesterday, I attended an all-day stamping event that was put on by some members of my team.  Yesterday, I showed you the swap card that made and today I want to share the swaps I traded for as well as the projects we made and the demonstration projects.
When we arrived, we were given a huge bag of supplies that we used to create 12 projects.  And we had lots of paper, ribbon, etc, leftover to take home.  Even the HEB bag that our supplies were in was cute!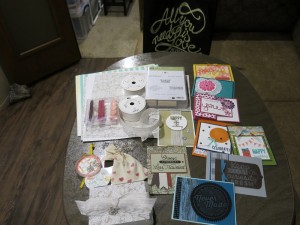 It looks like everyone was having a great time:
Here are some of the demonstration displays around the room:
And the swap cards that I traded for: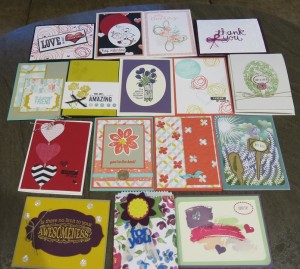 I wish I had taken more pictures – of the people, the projects, the food…. I was just so busy creating these amazing projects and visiting with my stamping friends, that I totally flaked out!!
If this looks like something that you might enjoy doing, let me know!