As I explained in previous posts, I converted the bunkhouse of my new fifth wheel RV into a crafting space.  I officially moved into the RV (I call it my tiny house) about a week ago, and have pretty much organized the space for working.  Someday I will tidy up more and take more pictures, but I thought you might like to see how you can organize your crafting, stamping, and even sewing supplies in a very small space.  Here is the view from the door.  To the left is a set of 4 Elfa drawer units with one solid top.  The top is about 3-feet square and I can even craft standing up there.
Office space.  There is less space on this side than the other and so far the only desk "chair" that will fit is the bar stool, but it works OK and I am reminded by my back to take frequent breaks!  I have everything an office needs: a computer, big monitor, printer, file cabinet, and even an e-cutter!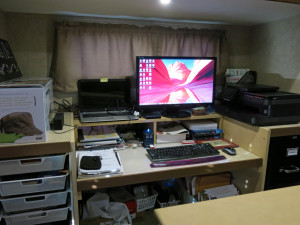 The other side of the studio is for crafting.  There are organizers for stamp pads and punches, and even a setup for taking videos.  My original chair didn't fit well in the space, but found a bungee chair at the Container Store that I like and it fits much better.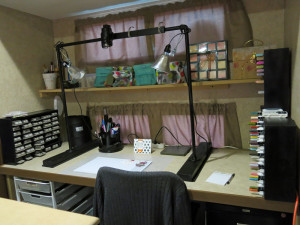 Elfa drawers hold lots of supplies: tools, papers, ribbon, and much much more.  I'm still trying to get those organized but will share more later.  I like that the drawers have labels but the space is so tight that I can't see them very well, so I will have to come up with a better labeling system.
And what kind of stamper would I be if I didn't have the perfect place to store my stamps?  This DVD media shelf holds well over 100 stamp sets in a very small space.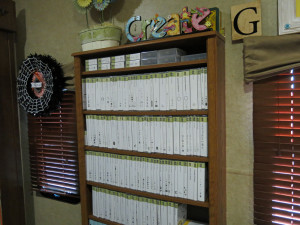 So, what do you think so far?