I haven't been at the RV much since my last post.  I did take some stuff from the bathroom and bedroom over and I put the DVD media shelf together.  Other than that, I have spent time at the house with my business (did some stamping and got ready for my team meeting) and I also went through my *stuff* one more time.  The first time I did a purge, I got rid of about half my stuff, then a month or so later, I went through it again and got rid of half of that.  I had a pile of boxes, etc of stuff that I wanted to keep, but wasn't sure what to do with.
I spent 2 half-days going through it again, probably for the last time until I move it over and this is what I ended up with.
The shelves to the right are mostly stamp sets and the will go into the media shelves that I  mentioned earlier.  I love that all of Stampin' Up!'s stamp sets are stored in DVD-style boxes.  It makes organization a breeze!
Most of the rest of this pile is fabric-related and for now, it will all go in the "basement", a large area under the RV.  I intend to do sewing but not right away so I will just stow it away for now.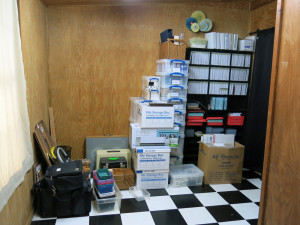 These boxes are for scrapbooking – decades worth of photos and memorabilia that I "plan on scrapbooking" some day.  This will go into storage because I just don't even want to think about it just yet.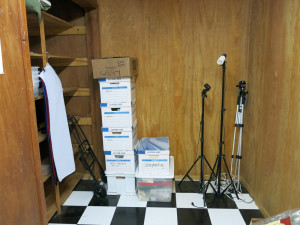 And here are my Elfa shelves that will go into the studio – smack in the middle of room (in a 2×2 square with a solid wood top.  The one on the far right will go under the crafting table.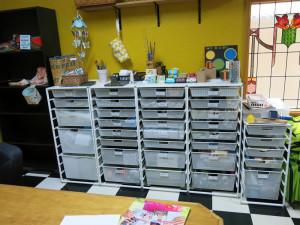 That's it for now… more later!