Each month, I make a bunch of the same card to swap among my team members and stamp club members.  I guess when I hit the road, I will be making a change there, huh?  This is the card that I made 24 of today: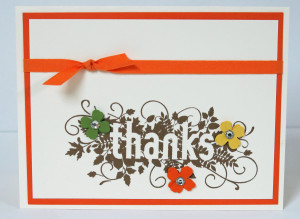 It uses a new stamp set, Seasonally Scattered, from the upcoming Holiday Catalog.  The set also includes "Merry" and "Love"), and I think you will love it!!
In addition to my team and stamp club members, I will also be sending this to my Virtual Club members (but don't tell them because I want it to be a surprise – nudge, nudge, wink!).
If you want to know more about my Virtual Club, click HERE.