I wanted to share the projects that I created for October.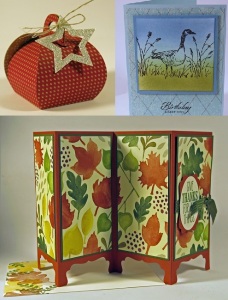 If you are in my Virtual Club, then these are the projects that you will get videos for.  If you want to make projects similar to these (same projects, possibly different supplies), and you are in the San Antonio area, then you will want to sign up for my new Crafting with Gail class at Alamo Craft Company.  I am offering the class twice to accommodate your schedule: Friday, October 17th at 1:00 OR Saturday, October 18th at 10:30.  You can sign up with me (email me at gail@rvcrafting.com or call me at 210-684-5800) or at Alamo Craft Company (210-509-6007).  The fee for the class is $15, but the fee will be waived if you place a $35 Stampin' Up!  order that day with me.
Space is limited, so be sure to sign up today!  Hope to see you soon.